Chicken, Bacon, and Cheese Sliders
by
, Updated April 6, 2017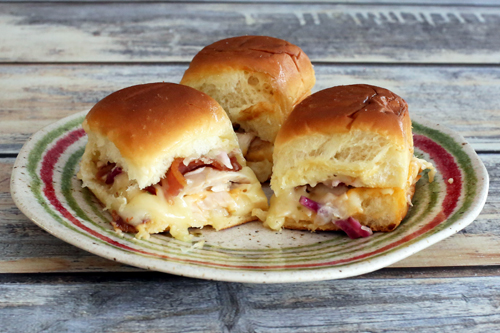 These chicken sliders couldn't be easier! Chicken, bacon, and spicy cheese are layered on split rolls and then baked.
Prep Time: 15 minutes
Cook Time: 20 minutes
Total Time: 35 minutes
Ingredients:
Instructions:
Heat the oven to 375 F
Spray a large sheet of heavy-duty foil with nonstick cooking spray.
Carefully slice the rolls in half horizontally.
Place the bottom of the rolls on the prepared foil and set the top aside. Gently cut almost through the bottoms so they may be separated easily when they're done.
In a small bowl, combine the mayonnaise and Sriracha, if using. Spread over the rolls.
Top the mayonnaise with chicken, and then the bacon.
Top the bacon with about 2 teaspoons of slaw. Alternatively, top the slider squares some pickled onion or chile pepper.
Sprinkle the pepper jack or cheddar cheese over all.
Place the top of the rolls over the cheese layer.
Brush the tops with the melted butter and garlic salt mixture.
Bring the sides up over the rolls and seal. Crimp the ends together to seal.
Place the foil package on a baking sheet and bake for 20 minutes. Open the top of the foil and continue baking for 5 minutes.
Makes 12 Sliders

More Recipes
Slow Cooker Lemon and Garlic Chicken Thighs
Tex-Mex Taco Beef Sliders
Easy Meatloaf Sliders




Site Search