Rice Pilaf with Shrimp and Chicken
by
, Updated April 6, 2017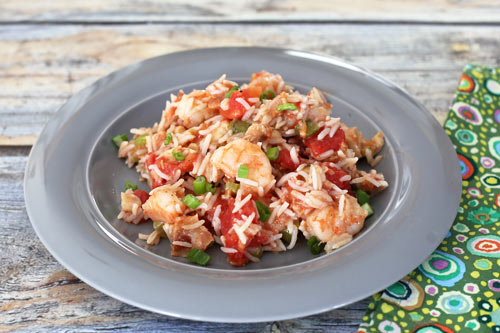 This rice dish is a flavorful one-pot meal, and it is very easy to prepare. The classic combination of chicken and shrimp makes for a fabulous meal. Cook the rice in a low sodium chicken broth for extra flavor.

Serve this rice dish with garlic bread or a crusty French bread.
Prep Time: 20 minutes
Cook Time: 20 Minute
Total Time: 40 Minutes
Ingredients:
Instructions:
Cook the bacon until crisp; drain on paper towels. Crumble and set aside.
Leave 1 tablespoon of bacon drippings in the skillet and add the butter.
Place the skillet over medium heat. Add the celery, onion, and bell pepper. Cook the vegetables, stirring frequently, until vegetables are tender.
Add the shrimp, chicken, Worcestershire sauce, and tomatoes to the skillet. Cook the mixture for about 5 to 7 minutes, or until the shrimp is cooked through.
Add the rice and crumbled bacon to the skillet and mix thoroughly.
Add salt and pepper to taste; heat through.
Garnish with sliced green onion tops, if desired.
4 to 6 Servings
Site Search