Quick and Easy Chicken Chowder
by
, Updated April 5, 2017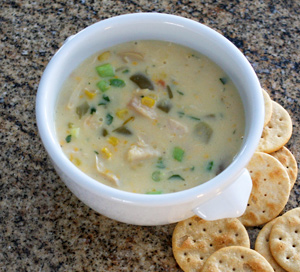 Condensed soups and a rotisserie chicken make this cheesy chicken chowder quick and easy to prepare.
Prep Time: About 12 Minutes
Cook Time: 8 Minutes
Total Time: 20 minutes
Instructions:
In a large saucepan, combine the condensed soups with the milk and chicken broth; mix to blend. Add the diced cooked chicken, chopped green onions, corn, mushrooms, and chiles. Mix well and cook over medium heat, stirring frequently, for about 6 to 8 minutes, until onions are tender.
Add salt and pepper and the cheese; stir until melted.
Serve with cornbread or crusty rolls and a tossed salad for a nice everyday soup supper.
Serves 6

Calories per serving:

359


Fat per serving:

16.8



Site Search