Single-Serve Broccoli Rice Casseroles
by
, Updated April 5, 2017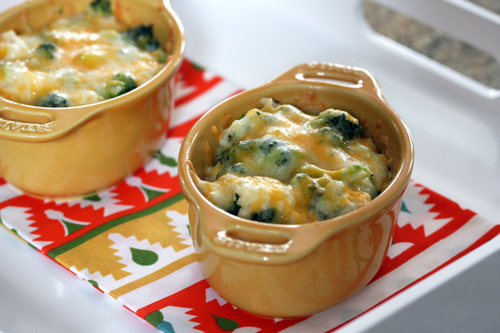 These individual broccoli rice casseroles would be perfect with grilled steaks or chicken. The easy single-serve casseroles can be made a day in advance and baked the next day.
Prep Time: 15 minutes
Cook Time: 15 minutes
Total Time: 30 minutes
Ingredients:
Instructions:
Heat the oven to 375 F.
Butter four 1-cup ramekins or 8-ounce baking dishes.
Steam fresh broccoli in a steaming basket over simmering water until just tender or cook frozen broccoli following package directions.
In a saucepan over medium heat, melt the butter. Add the chopped onion to the butter and cook, stirring, for about 4 minutes. Stir in the flour. Cook, stirring, for 2 minutes. Add The milk, pepper, mustard, and garlic powder. Cook, stirring, until the sauce is thickened. Stir in 1/2 cup of the cheese.
Taste and add salt, as needed.
In a bowl, combine the sauce with the cooked rice and steamed broccoli. Stir to blend thoroughly.
Spoon the broccoli and rice mixture into the prepared baking dishes.
Top with the remaining shredded cheese.
Bake for about 15 minutes, or until hot and cheese is melted.
Make-Ahead Tip: Refrigerate the topping cheese and prepared casseroles separately. Take the casseroles out of the refrigerator about 10 minutes before baking. Bake in the preheated 375 F oven for about 20 minutes, or until hot. Top with the cheese and continue baking for 5 to 10 minutes longer.

Serves 4
Site Search