Braised Chicken With Apples and Bacon
by
, Updated April 5, 2017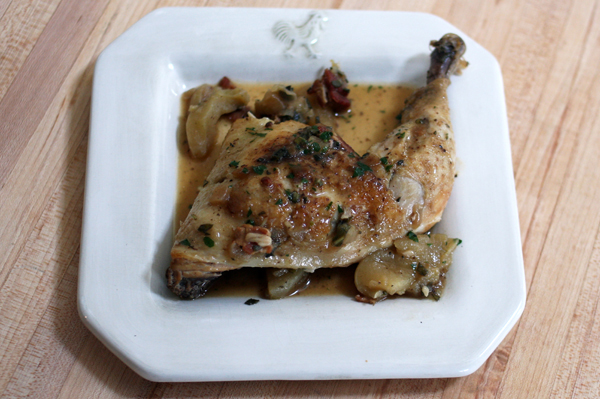 Use your trusty Dutch oven to make this delicious oven braised chicken. the chicken is cooked with bacon, onions, and apples in a seasoned stock. Some apple juice or cider is added to the chicken stock for the braising liquid. The liquids can be defatted and reduced to make a flavorful sauce if you'd like.

I used whole chicken legs, but drumsticks and thighs may be used as well.
Prep Time: 20 minutes
Cook Time: 50 minutes
Total Time: 1 hour 10 minutes
Ingredients:
Instructions:
Put the diced bacon in a heavy Dutch oven. Place the pan over medium heat and cook the bacon until crisp. Remove the bacon to paper towels to drain.
Add 1 tablespoon of olive oil to the Dutch oven and add the chicken pieces. Sprinkle with salt and pepper. Cook until browned on both sides, about 6 minutes total. Remove the chicken to a plate and set aside.
Heat the oven to 350 F.
Add the remaining 1 tablespoon of olive oil and the onion to the Dutch oven and cook until browned, stirring frequently.
Add the garlic and apple to the onions and cook for 2 minutes longer. Stir in the flour until well blended. Cook, stirring, for 1 minute longer.
Add the apple juice and chicken stock to the pan along with the sage and thyme. Cook while stirring until the mixture begins to simmer. Add the chicken and bacon back to the Dutch oven.
Cover and bake in the preheated oven for 30 to 40 minutes, or until the chicken is cooked through. With a slotted spoon, remove the chicken and solids to a platter and keep warm.
If desired, strain the liquids into a gravy separator. Return the defatted juices and solids to the pan.
Boil the pan juices for about 5 minutes to reduce and thicken slightly. Whisk in the butter, 1 tablespoon at a time. Stir in the fresh chopped parsley and spoon the sauce over the chicken.
4 to 6 Servings
Site Search