Slow Cooker Bolognese Sauce
by
, Updated April 5, 2017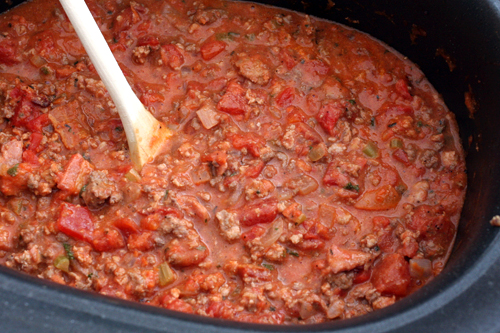 This great tasting sauce cooks to perfection in the slow cooker. It's a classic Bolognese made with milk, pancetta, and plenty of ground meat.
Prep Time: 20 minutes
Cook Time: 4 hours
Total Time: 4 hour 20 minutes
Ingredients:
Instructions:
In a large skillet, Dutch oven, or stovetop safe slow cooker insert, heat the butter and olive oil. Add the ground beef, pork, and pancetta or bacon, along with the onion, carrot, and celery. Cook, stirring frequently, until the beef and pork are no longer pink. Stir in the garlic and cook, stirring, for 5 minutes longer. Stir in the tomato paste and red wine. Cook, stirring frequently, for 5 minutes.
To the sauce mixture add the light cream, crushed and diced tomatoes, salt, pepper, bay leaves, and basil. Bring to a simmer.
Transfer the sauce to the slow cooker; cover and cook on HIGH for 2 to 3 hours. Add Parmesan cheese and continue cooking for 30 to 45 minutes.
Serve with hot cooked spaghetti, bucatini, or similar pasta. It's great over zucchini or summer squash noodles as well. Or try it on spaghetti squash.
Serves 8

Calories per serving:

404


Fat per serving:

18.7



Site Search