Black Eyed Peas With Ham
by
, Updated April 5, 2017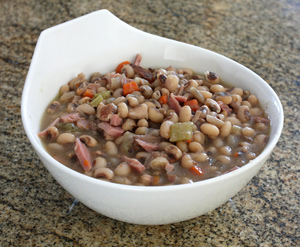 The peas should soak overnight, so plan your preparation accordingly. This makes an excellent everyday dinner, and they're perfect for the New Year's Day good luck meal. Serve with cornbread, greens or slaw, and rice.
Prep Time: 20 minutes
Cook Time: 1 hour 10 minutes
Total Time: 1 hours 30 minutes
Ingredients:
Instructions:
Pick peas over, discarding malformed peas and any small stones. Rinse and put in a large bowl. Add water to about 2 to 3 inches above the peas. Let stand at room temperature overnight.
Drain the peas and rinse.
In a large pot or Dutch oven, cook the pork belly or salt pork with the onion, celery, and carrot until onion is just tender and pork is browned. Add the drained peas and chicken broth, along with enough water to just cover the peas. Add the ham, crushed red pepper, and black pepper. Cover and simmer for about 1 hour, or until tender. If using pork belly, remove and shred the meat, discarding the fat.
Add the meat back to the peas and add salt, to taste.
Serve with rice and cornbread.
Serves 8

Calories per serving:

340


Fat per serving:

11.4



Site Search