Beer Pizza Crust
by
, Updated April 5, 2017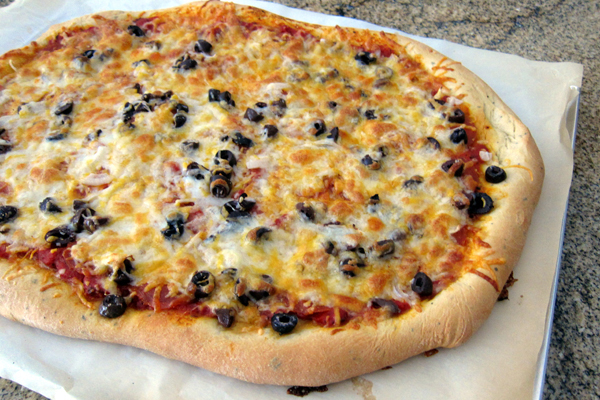 Beer, basil, and optional garlic powder are used to give this amazing pizza crust its great flavor and texture. Knead the dough by hand or use your stand mixer or bread machine.
Prep Time: 15 minutes
Cook Time: 20 minutes
Total Time: 35 minutes
Ingredients:
Instructions:
Combine all of the ingredients in a mixing bowl, the bowl of a stand mixer, or bread machine (in the order recommended by the manufacturer).
Mix until a dough is formed and then knead for about 5 to 7 minutes. The dough should be smooth and elastic. It will be firm but slightly tacky.
Oil a large bowl with olive oil.
Put the dough into the oiled bowl. Turn to coat the entire surface with the oil. Cover the bowl with plastic wrap and let the dough rise in a warm place for about 1 1/2 hours, or until doubled in bulk.
Preheat the oven to 450 F.
Roll the dough out on a large sheet of parchment paper to a round about 14- to 16-inches in diameter, or roll to a rectangular or oblong shape. Or roll two smaller, thinner crusts on separate sheets of parchment paper.
Top with sauce, toppings, and cheese as desired and slide a baking sheet under the parchment paper.
If using a baking stone, place it on the lowest rack.
Carefully slide the pizza, parchment paper and all, onto the pizza stone, if using. Or leave the pizza on the baking sheet.
Bake the pizza for about 20 minutes, or until the crust edge is browned, the toppings are cooked, and cheese has melted.
Makes 1 large or 2 small pizzas.
Site Search