Basic Meatballs
by
, Updated April 5, 2017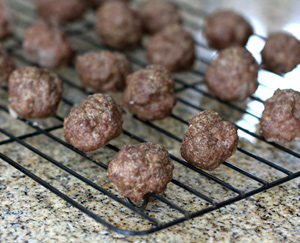 These meatballs are perfect for any appetizer dish, from barbecued meatballs to sweet and sour favorites. Or, add a few tablespoons of Parmesan cheese and add some Italian seasoning for your favorite spaghetti and meatballs recipe.
Meatballs
Prep Time: 15 minutes
Cook Time: 25 minutes
Total Time: 40 minutes
Ingredients:
Instructions:
Heat the oven to 350 F. Line a large jelly roll pan or roasting pan with foil. Spray a cooling rack with nonstick spray and place in the foil-lined pan.
Combine the ground beef with the bread crumbs, beaten egg, and seasonings. Shape into meatballs about 1 inch in diameter. Arrange on the rack in the pan.
Bake the meatballs for 25 minutes.
4 dozen 1-inch meatballs.

Calories per appetizer serving (4 meatballs):

124


Fat per appetizer serving (4 meatballs):

4.1



Site Search