Barbecued Beef Sandwiches
by
, Updated April 5, 2017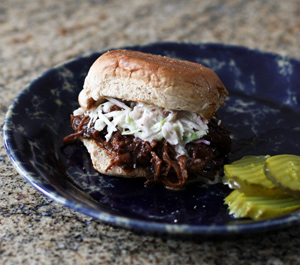 An everyday pot roast is slowly cooked with a delicious barbecue sauce mixture, then it's shredded and served on sandwich buns.
Prep Time: 10 minutes
Cook Time: 9 hours
Total Time: 9 hours 10 minutes
Ingredients:
Instructions:
Put the chopped onion in the crockery insert of a slow cooker (3 1/2- to 5-quart size). Cut the roast into 2 pieces and place on the onion layer. Combine the cola, Worcestershire sauce, garlic powder, pepper, vinegar, and barbecue sauce. Pour half of the sauce over the roast. Cover the remaining sauce and refrigerate.
Cover the slow cooker; cook the beef on LOW for 9 to 11 hours, or until the roast is tender enough to shred easily. Remove the beef from the slow cooker and discard juices.
Shred the meat with two forks. Return to the slow cooker along with the remaining reserved sauce. Cover and cook on HIGH for 10 minutes, until hot and bubbly.
Serve on toasted sandwich buns with your favorite salads, slaw, and baked beans.
Serves 6

Nutritional information based on 8 servings:
Calories per serving:

380


Fat per serving:

10.7




More Pot Roast Recipes
Best Ever Slow Cooker Pot Roast
Basic Beef Pot Roast with Vegetables
Apple Juice Roast
Yankee Pot Roast
Pat's Beef Burgundy
Slow Cooker Brisket and Beer