Bacon, Tomato, and Avocado Sandwiches
by
, Updated April 5, 2017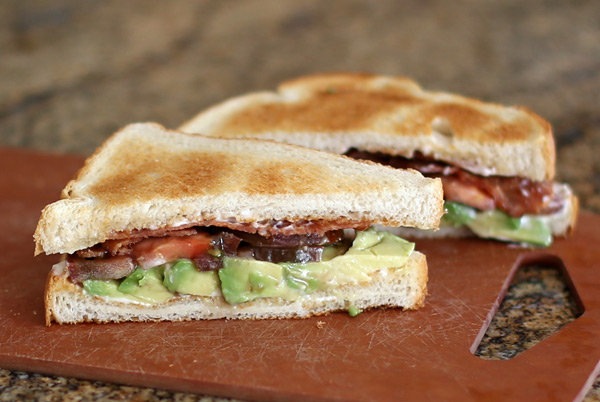 These delicious bacon and tomato sandwiches are layered with creamy avocado slices. The sandwiches are assembled with toasted bread slices, but feel free to add some cheese and grill the sandwiches on your panini press. See the instructions below the recipe.
Prep Time: 10 minutes
Cook Time: 3 minutes
Total Time: 13 minutes
Ingredients:
Instructions:
Cook the bacon until crisp; set aside.
Spread 4 of the toast slices with a thin layer of mayonnaise. Cover with overlapping avocado slices. Top the avocado layer with tomato slices and sprinkle with the seasoned salt and pepper. Top with bacon slices.
Spread the remaining 4 slices of toast with mayonnaise and place on the bacon layer to make four sandwiches.
Cut each sandwich into quarters.
Serve the sandwiches with chips or fries.
Makes 4 servings.
Tip: For grilled sandwiches, use thick untoasted bread; spread with mayonnaise and layer with the avocado, tomatoes, seasonings, and bacon. Top the bacon with Muenster, Cheddar, or your favorite cheese. Top with the remaining pieces of bread and spread the top and bottom with butter. Grill until the cheese has melted and the bread is golden brown.
Site Search