Arugula Salad With Orange Vinaigrette
by
, Updated April 5, 2017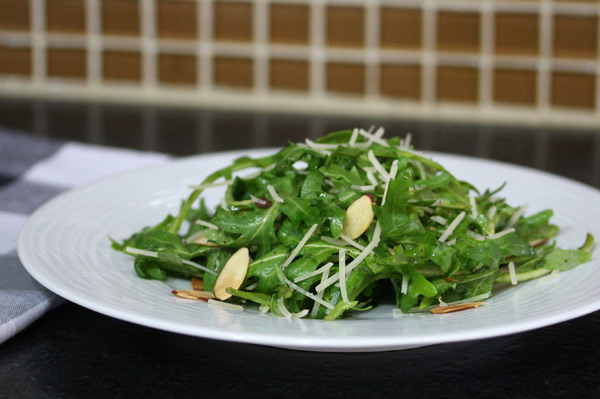 Make this simple salad with arugula or baby kale. It's an excellent salad to serve along with just about any meal. The orange vinaigrette is wonderful on the salad, but it can be tossed with your favorite dressing or a simple mixture of 1/4 cup of olive oil whisked with the juice and zest of a lemon.
Prep Time: 10 minutes
Cook Time: 3 minutes
Total Time: 13 minutes
Ingredients:
Instructions:
In a blender, combine the orange juice, vinegar, lemon juice, honey or sweetener, a dash of pepper and a dash of salt.
With the blender running, add the olive oil in a slow, steady stream.
Put the arugula or baby kale in a serving bowl. Add some of the vinaigrette and toss to coat the leaves.
Arrange the salad on salad plates; sprinkle with sliced almonds, Parmesan cheese, and sprinkle lightly with salt and pepper.
Serve any extra vinaigrette along with the meal.
Makes 4 servings.
Site Search