Apple Upside-Down Cake
by
, Updated March 28, 2017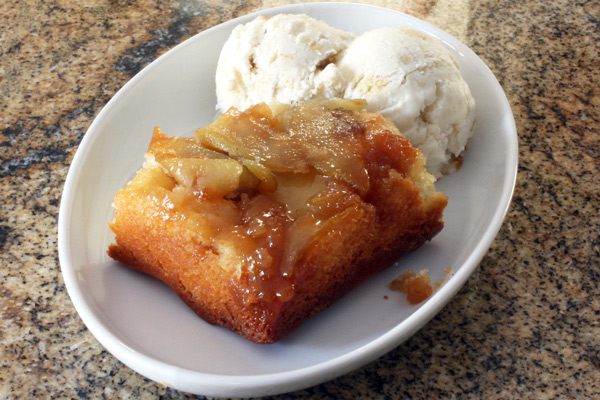 The streusel topping on this apple upside-down cake is what sets this cake apart. When the cake is flipped to reveal the wonderful apple topping, the brown sugar and pecan streusel becomes the crust. Golden delicious and Granny Smith are good choices for apples.
Prep Time: 20 minutes
Cook Time: 45 minutes
Total Time: 1 hour 5 minutes
Ingredients:
Instructions:
Apple Layer
Heat the oven to 350 F.
Put the 1/4 cup of butter in a 9-inch square pan. Put it in the oven until the butter has melted.
Meanwhile, peel and core the apples. Slice the apples into thin wedges.
Remove the pan from the oven and sprinkle the butter with 1/2 cup of brown sugar.
Arrange apple slices evenly over the butter and brown sugar layer.
Cake Layer
In a large mixing bowl, combine the 2 cups flour, 1 cup of granulated sugar, 1 tablespoon baking powder, 1 teaspoon salt, 5 tablespoons of softened butter, 1 cup milk, and the egg. Beat on low speed with an electric mixer until combined. Increase to medium speed and beat for about 2 minutes longer. Scrape the sides of the bowl occasionally.
Spoon the batter evenly over the apples and then gently spread to cover.
Streusel
In a medium bowl, combine 1/2 cup of brown sugar with the pecans, 1/4 cup of flour, and 1/2 teaspoon of cinnamon. Mix the 3 tablespoons of softened butter with a fork or your fingers until crumbs form.
Sprinkle the streusel mixture evenly over the top of the batter.
Have a shallow baking pan or cake plate ready to turn the cake out onto as soon as it comes out of the oven.
Bake the coffee cake in the preheated oven for about 45 to 50 minutes, or until a wooden toothpick or a cake tester inserted in the center comes out clean.
Immediately invert the cake onto the platter or pan and let stand for a minute. Remove the baking pan. If any apples stick to the baking pan, scrape them out onto the cake.
Makes about 12 servings.
Site Search