Apple Brown Betty
by
, Updated March 28, 2017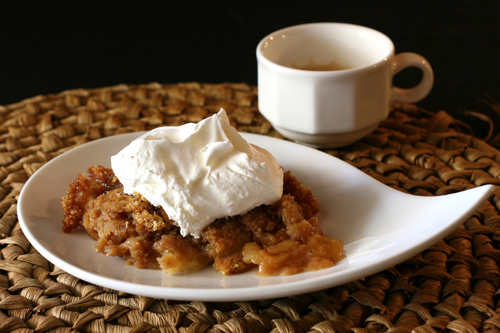 This delicious apple brown Betty has long been an American favorite. The apple dessert was first mentioned in print in 1864. It's similar to an apple crisp, and it's a great way to use day-old bread crumbs. This recipe is a typical Apple Betty dessert with some orange juice for extra flavor. Or use apple juice if you'd like.
Prep Time: 15 minutes
Cook Time: 45 minutes
Total Time: 1 hour
Ingredients:
Instructions:
Heat the oven to 350 F. Butter a shallow 1 1/2-quart baking dish or spray with nonstick cooking spray.
Combine bread crumbs, sugar, lemon zest, and cinnamon in a bowl; set aside.
Arrange half of the apple slices in the prepared baking dish. Top with half of the bread crumb mixture. Repeat layers, ending with the remaining bread crumb mixture.
Combine the melted butter with the orange juice; drizzle evenly over the casserole.
Bake the apple Betty in the preheated oven for 45 to 55 minutes, until nicely browned and apples are tender.
Serve with freshly whipped cream or thawed frozen whipped topping, or serve the dessert warm with a big scoop of vanilla ice cream.
Serves 6

More Recipes
Harvest Apple Cakes
Apple Pie Cake
Crumb Cake

From Southernfood.about.com:
Frosted Apple Bars
Fresh Apple Cranberry Cake

Site Search