Lemon-Garlic Chicken
by
, Updated April 3, 2017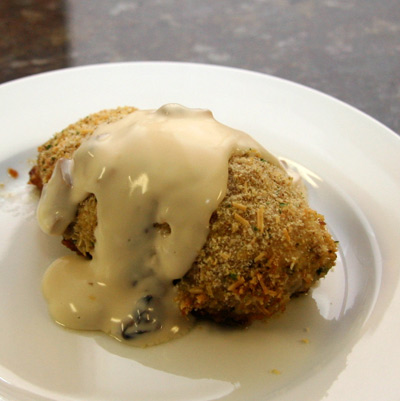 Chicken breasts are thinned then dipped in a wonderful garlic butter sauce, then they're rolled up and coated with bread crumbs. Serve this chicken with a rice pilaf or buttered noodles.
Prep Time: 15 minutes
Cook Time: 50 minutes
Total Time: 1 hour 5 minutes
Ingredients:
Instructions:
Heat the oven to 325 F.
Put the chicken breasts between sheets of plastic wrap and pound to flatten and thin.
Dip in mixture of 1/2 cup butter and garlic. Roll tightly; secure with toothpicks.
Coat in mixture of bread crumbs, Parmesan cheese, parsley, salt and pepper.
Arrange the chicken rolls in a nonstick baking pan or a baking pan lined with nonstick foil.
Drizzle with 2 tablespoons butter and lemon juice. Sprinkle lightly with paprika.
Bake for 40 to 50 minutes or until chicken is tender.
Serves 6

Calories per serving:

514


Fat per serving:

29.7g




More Recipes
Crunchy Fried Chicken
Chicken and Ham Pie
General Tso's Chicken
Glazed Chicken Wings
Chicken and Turkey Recipes Index
Site Search