Jamaican Jerk Chicken
Updated April 3, 2017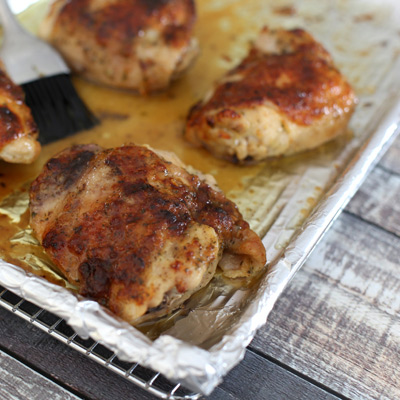 This is one of our all-time favorite recipes! I saved it from a newsgroup or forum posting years ago, but was recently told it was from the cookbook, The Sugar Reef Caribbean Cookbook, by Devra Dedeaux. See Also: Easy Chicken Breasts With Creamy Wine Sauce
Prep Time: 20 minutes
Cook Time: 12 minutes
Marinate: 1 hour
Total Time: 1 hour 32 minutes
Ingredients:
Instructions:
Wearing protective gloves, seed and finely chop Scotch Bonnet pepper.
Trim chicken of fat. In a large bowl, combine the allspice, thyme, cayenne pepper, black pepper, sage, nutmeg, cinnamon, salt, garlic powder and sugar. With a wire whisk, slowly add the olive oil, soy sauce, vinegar, orange juice, and lime juice. Add the Scotch Bonnet pepper, onion, and mix well.
Add the chicken breasts, cover and marinate in the refrigerator for at least 1 hour, longer if possible.
Preheat an outdoor grill.
Remove the chicken breasts from the marinade and grill for 6 minutes on each side or until fully cooked (at least 165 F).
Bring the leftover marinade to a boil and continue boiling for 1 minute.
While grilling the chicken, baste with the marinade.
Serve the chicken with the remaining marinade for dipping.
If you can't find habanero peppers, substitute Thai bird chile peppers.
Serves 4 to 6

Fat per serving (based on 4 servings of 6 ounces of chicken each):

25.9g



About Jerk Cooking
(from the original author)
This method of cooking pork and chicken dates back to the Carib-Arawak natives who inhabited Jamaica. After capturing an animal and thoroughly cleaning and gutting it, the natives placed it in a deep pit lined with stones and covered with green wood, which, when burned, would smoke heavily and add to the flavor. But first, the carcass was "jerked" with a sharp object to make holes, which were stuffed with a variety of spices. The holes also allowed heat to escape without loss of moisture.
The results were superb. The meat was not only wonderfully spiced, but moist and tender." (Note: Sugar Reef is a restaurant in Manhattan)

More Chicken Breast Recipes and Related
Dijon Chicken Breasts
Chicken Breasts in Champagne
Balsamic and Garlic Chicken Breasts
Basil Grilled Chicken
Chicken and Turkey Recipes Index
Site Search