Potato Stuffed Duck with Honey Glaze
by
, Updated April 2, 2017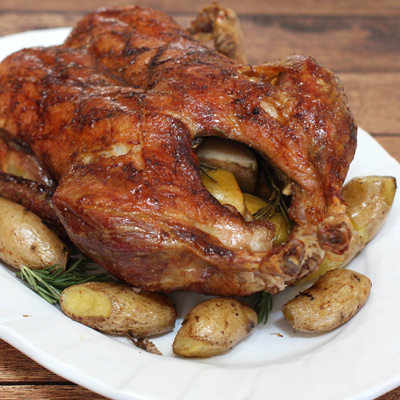 These ducks are stuffed with a potato and onion stuffing, and they're basted with a lemon and honey mixture as they roast.
Prep Time: 20 minutes
Cook Time: 1 hour 45 minutes
Total Time: 2 hour 5 minutes
Ingredients:
Instructions:
Heat the oven to 375 F.
Rinse the ducks inside and out with hot tap water; pat dry.
In a large skillet over medium heat, melt the butter with the olive oil; saute the onions and celery for about 5 minutes, then add the diced potatoes, the thyme, and a little salt and freshly ground pepper to taste.
Turn the potatoes occasionally and when they are lightly brown, add the parsley. Spoon the stuffing mixture into the 2 duck cavities.
Place the ducks on a rack in a shallow roasting pan and put in preheated oven for 1 1/2 hours; remove all fat and discard.
Mix the lemon juice with the honey; baste the ducks several times with the lemon-honey glaze as you roast them an additional 20 minutes.
The ducks should be golden brown and the drumsticks will turn easily in their sockets when the done.
Serves 4 to 6

Poultry Recipes Index
Site Search