Chicken Parmigiana With Ricotta and Mozzarella
by
, Updated April 2, 2017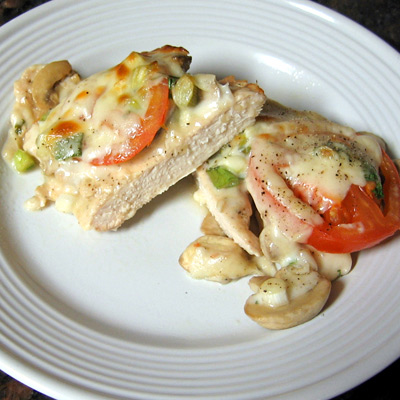 This easy Mozzarella is easy to make and bake, with a ricotta cheese, tomato, and mozzarella cheese topping.
Prep Time: 20 minutes
Cook Time: 25 minutes
Total Time: 45 minutes
Ingredients:
Instructions:
Heat the oven to 350 F.
Blend the Ricotta with salt, pepper and oregano.
Rub chicken with garlic powder and brown in skillet with 2 tablespoon oil, approximately 12 minutes each side.
Remove and cool.
Place chicken in baking dish side by side. Spoon 1/4 cup seasoned Ricotta and 1/4 cup of crushed tomatoes in center of each chicken breast.
Top each chicken breast with 2 slices of Mozzarella cheese and bake in preheated oven for 20 to 25 minutes, or until chicken is cooked through.
Serves 6

Calories per serving:

443


Fat per serving:

23.8g




More Recipes
Senegalese Chicken Yassa
Jamaican Jerk Chicken
Chicken a la King Recipe
Chicken With Tomatoes and Green Chile
Chicken and Turkey Recipes Index
Site Search