Chicken Breasts in Champagne
Updated April 2, 2017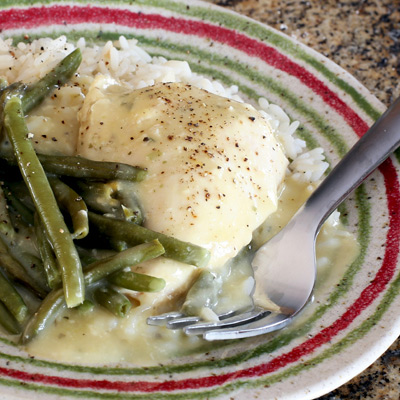 A champagne sauce makes this chicken elegant and flavorful. Serve the chicken with potatoes or rice for a great weekend meal. Feel free to replace the onion with shallots. Leave the carrot and mushrooms out if you'd like.
Prep Time: 20 minutes
Cook Time: 45 minutes
Total Time: 1 hour 5 minutes
Ingredients:
Sauce
Instructions:
Heat the oven to 325 F.
In a heatproof casserole, make a bed of carrot, onion, and mushrooms. Add butter cut into thin slices and add 1 cup of champagne or wine.
Place chicken breasts on top of the mixture. Sprinkle the chicken with salt and pepper, cover the casserole, and bake while basting frequently with the liquid for about 40 to 50 minutes, or until chicken is tender.
Remove chicken to a platter and keep warm. Cook the juices, uncovered, over medium-high heat until reduced by half.
Stir in heavy cream and 1/4 cup of champagne or wine; strain the sauce.
Season with salt and pepper to taste and about 1 teaspoon of finely chopped parsley.
Pour sauce over the chicken breasts and garnish the platter.
Adapted From The Hammersmith Farm Cookbook

Serves 4

Calories per serving:

392


Fat per serving:

19.8g




Chicken and Turkey Recipes Index
Site Search