Ground Turkey Burritos
by
, Updated April 1, 2017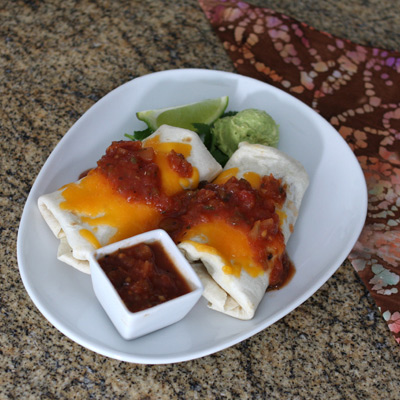 I make a triple batch of these, freeze them on a cookie sheet then wrap in aluminum foil and store in freezer bags. These burritos are great for lunches! Feel free to make these burritos with ground beef instead of ground turkey.
Prep Time: 25 minutes

Cook Time: 30 minutes
Total Time: 55 minutes

Ingredients:


Instructions:
Brown the turkey with onion, peppers and garlic. Drain excess fat. Add the remaining ingredients and simmer about 20 minutes, skimming excess liquid off the top.
Let cool a bit so the mixture is a little firmer.
Warm the tortillas in the microwave or individually in a frying pan to soften.
Put a big spoonful in the center of each tortilla, top with some cheese, and wrap, folding the ends within.
Optional additions:black beans, corn, more chiles, rice, whatever you like.
Serves 6 to 8

Calories per serving (based on 6 servings):

410


Fat per serving (based on 6 servings):

17.6g




Chicken and Turkey Recipes Index
Site Search