Medallions of Pork Tenderloins
Updated June 5, 2017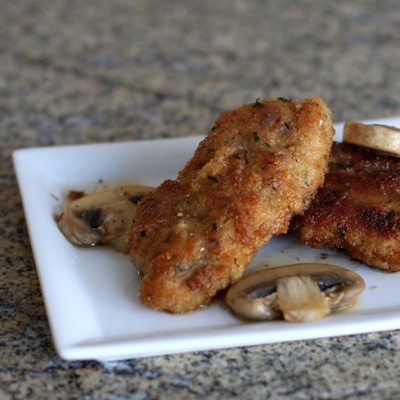 Delicious breaded and fried pork tenderloin medallions are served with a lemon sauce and garnished with parsley. This is a great dish for a busy weekend meal.
Prep Time: 20 minutes
Cook Time: 15 minutes
Total Time: 35 minutes
Ingredients:
Instructions:
Combine salt, pepper and flour; dredge medallions in flour, shaking off excess.
Beat eggs with water; dip medallions in egg and coat with bread crumbs.
Press medallions with heel of palm to make crumb stick; let stand for 10 minutes to dry.
Heat butter and oil in a large skillet; saute medallions 8 minutes per side. If you do this in 2 batches, use about half the oil and butter for each batch.
Remove the pork tenderloin; drain on paper towels, then transfer to platter and keep warm.
Add wine to pan; deglaze over high heat, scraping brown bits from bottom and sides of pan. Add chicken broth. Continue simmering for 1 minute; add mushrooms and cook, stirring, for 2 to 3 minutes, until tender.
Add lemon juice and cook 1 minute, stirring.
Taste the sauce and season with salt and/or pepper, as needed. Drizzle tenderloin medallions with sauce and garnish with parsley for serving.
Serve with hot buttered noodles and spinach or your choice of a side vegetable.
Serves 6.
Site Search