Maple Mustard Pork Tenderloin
Updated April 2, 2017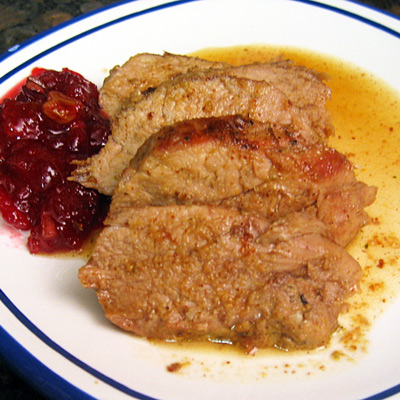 Maple syrup, Dijon mustard, and fresh minced sage give these pork tenderloin medallions fabulous flavor. Pork tenderloin medallions cook very quickly, making this a quick and easy dish to prepare and cook. Serve this pork with a rice pilaf or roasted potatoes for a delicious faimily meal.
Prep Time: 8 minutes
Cook Time: 10 minutes
Total Time: 18 minutes
Ingredients:
Instructions:
Slice tenderloin into 1/3-inch thick slices. Sprinkle with 1 1/2 teaspoons of the chopped sage, salt, and generous amount of pepper.
Melt butter in heavy medium skillet over medium-high heat. Add pork and cook until golden brown on both sides and cooked through, about 1 1/2 minutes per side.
Transfer pork to plate, leaving drippings in skillet.
Add broth, maple syrup, mustard and remaining 1 1/2 teaspoons sage to skillet. Boil until thick, about 3 minutes, scraping up browned bits. Reduce heat to low.
Return pork and any accumulated juices to skillet and cook until just heated through, about 1 minute.
Serve pork with sauce. Garnish with fresh sage.
Serves 4
Adapted from "Maine Ingredients"
Site Search