Macaroni and Cheese With Ham and Peas
by
, Updated April 1, 2017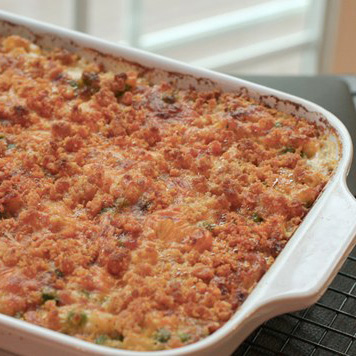 This delicious macaroni and cheese is a one dish meal, with ham, peas, and lots of Cheddar cheese. Feel free to use cooked green beans or mixed vegetables if you don't care for peas, or leave the vegetables out altogether. I use the food processor to make bread crumbs with day-old bread, then I freeze the crumbs to use for casserole toppings or meatloaf filler.
Prep Time: 12
Cook Time: 45
Total Time: 57 minutes
Ingredients:
Topping
Instructions:
Heat oven to 350 F.
Butter a 2-quart baking dish.
Cook macaroni following package directions; drain in a colander and rinse with hot water.
In a saucepan over medium heat, melt the 4 tablespoons of butter. Stir flour into the butter until smooth and bubbly; stir in mustard, salt, and pepper. Gradually stir in the half-and-half or cream. continue cooking, stirring, until thickened. Add the cheese, cooked peas, and ham, stirring until cheese is melted. Combine with the drained macaroni and the parsley, if using.
Spoon the macaroni mixture into the buttered baking dish.
Combine bread crumbs with 2 tablespoons of melted butter and toss until well blended. Sprinkle over the macaroni mixture.
Bake for 25 to 35 minutes, until hot and bubbly, and topping is lightly browned.
Site Search