Pork Roast with Apples
by
, Updated April 1, 2017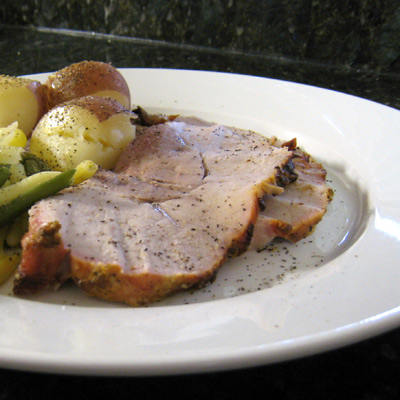 This pork loin roast is roasted with herbs and served with a delicious apple and cream sauce. Serve this pork loin with potatoes and spinach, green beans, or your favorite vegetables.
Prep Time: 20 minutes
Cook Time: 2 hours 15 minutes
Total Time: 2 hours 35 minutes
Ingredients:
Instructions:
Combine thyme, salt, and pepper; rub all over pork roast.
Place roast on a rack in a shallow roasting or baking pan. Roast at 325 For 1 1/2 to 2 1/2 hours, or until meat thermometer registers 165 F. Transfer pork roast to a warm platter and keep warm while making sauce.
Skim fat from pan juices. Place pan over medium heat. Add apple cider to pan, stirring to scrape up browned bits. Pour juices into a large saucepan. Stir in heavy cream, chicken broth, and sherry; bring to a boil. Cook over medium-high until reduced to about 1 1/2 cups, stirring occcasionally (about 20 minutes).
Meanwhile, in a large skillet, melt the butter; add apple wedges and cook and stir until apples are golden in color. Remove apple wedges from skillet with slotted spoon, leaving drippings in pan; keep warm. In the same skillet; add mushrooms to the drippings and cook till tender. Stir into the thickened cream mixture in the large saucepan.
Serve pork with apple slices and sauce.

Serves 10 to 12.
Site Search