Cranberry Pork Roast
by
, Updated April 1, 2017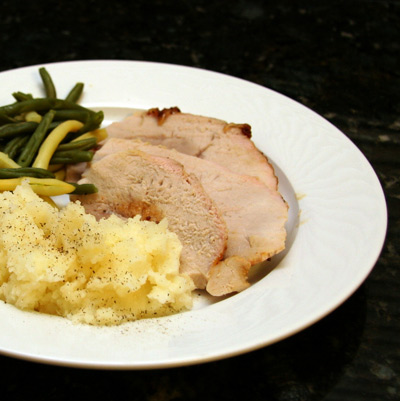 Spices and cranberry juice are used to glaze and flavor this delicious pork loin roast. Serve this pork loin roast with potatoes and peas or mixed vegetables for a fabulous family dinner.
Prep Time: 8 minutes
Cook Time: 2 hours 30 minutes
Total Time: 2 hours 38 minutes
Ingredients:
Instructions:
Heat the oven to 325 F.
Rub roast all over with sliced garlic and salt and pepper; discard garlic pieces and place pork roast on rack in a baking or roasting pan.
Roast for 2 to 3 hours or until an inserted meat thermometer registers at least 145 F, the minimum safe temperature for pork.
Meanwhile, combine all remaining ingredients in a stainless steel saucepan; bring to a boil. Remove from heat.
Halfway through the roasting, begin basting the roast every 15 minutes with cranberry sauce mixture.
Serve pork thinly sliced with the remaining sauce.
Serves 6

.
Site Search