Italian Hamburgers
by
, Updated April 1, 2017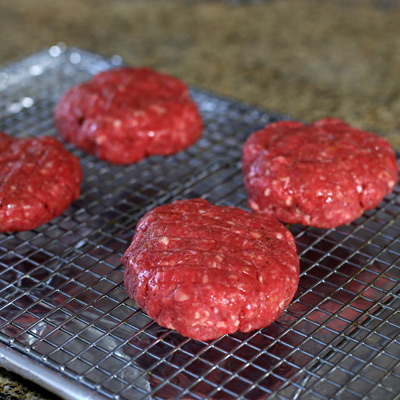 These parmigiana style burgers are delicious with hot cooked spaghetti or linguini and a tossed salad.
Prep Time: 20 minutes

Cook Time: 45 minutes
Total Time: 1 hour 5 minutes

Ingredients:

Tomato Sauce


Instructions:





Hamburgers
Preheat oven to 425 F.
Lightly grease a shallow baking pan with nonstick cooking spray; set aside.
In a deep bowl, combine green onions, basil, parsley, Parmesan cheese, nutmeg, pepper, and 1/2 cup bread crumbs. Stir in 1 egg white. Add the ground beef and mix well. Shape into 6 patties.
In a small bowl, beat remaining egg whites with water.
Place remaining 1/2 cup bread crumbs on a piece of wax paper.
Dip patties in egg white mixture and thoroughly coat with bread crumbs.
Place in prepared pan and bake until coating is crisp and lightly golden, about 15 minutes.
Remove from oven and spoon 2 tablespoons of tomato sauce over each patty.
Place one slice of mozzarella cheese on top of each patty and return to oven.
Bake until sauce begins to bubble and cheese is melted, about 5 minutes. Transfer to platter and serve.
Sauce
In a 12-inch skillet, heat oil over medium heat.
Turn heat to low; add onion and carrot. Cook, stirring constantly, until soft but not brown, about 4 minutes. Add garlic and continue to cook for an additional minute.
Stir in tomatoes, salt, pepper, sugar, and basil. Turn heat to high and bring to a boil. Reduce heat to medium and cook, stirring frequently, until slightly thickened, about 25 minutes.
Remove from heat, cover pan, and let sauce rest for at least 1 hour before using.
Recipe adapted from Lean Italian Cooking by Anne Casale
Site Search