Stuffed Peppers with Ground Beef
by
, Updated April 1, 2017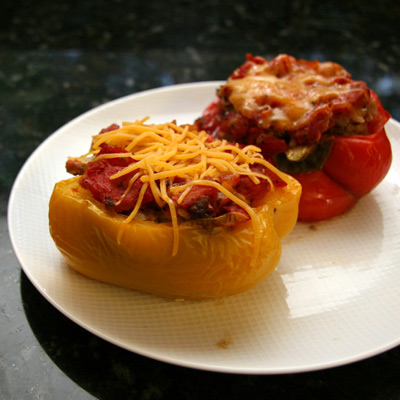 Ground beef and vegetables stuff these big bell peppers. Serve these tasty stuffed peppers with tossed salad and bread or serve with mashed potatoes for a delicious, hearty family meal.
Prep Time: 15 minutes
Cook Time: 55 minutes
Total Time: 55 minutes
Ingredients:
Instructions:
Heat the oven to 350 F.
Cut tops off of the peppers; remove the stems and seeds. Set aside.
Melt the butter in a large skillet over medium low heat. Add the onions, celery, parsley, and garlic and saute until just tender. Add the ground beef and continue cooking until beef is no longer pink. Add the bread crumbs and season with salt and pepper. Remove from heat and let cool slightly.
Stir the eggs into the stuffing. If more moisture is needed, add a little milk or broth to the stuffing mixture.
Spoon the stuffing into the prepared bell peppers and place them in a shallow baking dish. Bake in the preheated oven for 30 minutes or until the bell peppers are tender.
Spoon tomato sauce or tomatoes over each stuffed pepper and sprinkle with shredded cheese; bake 8 to 10 minutes longer, until cheese has melted.
Serves 6

Calories per serving:

522


Fat per serving:

26.2g



Site Search