Spanish Rice
by
, Updated September 5, 2017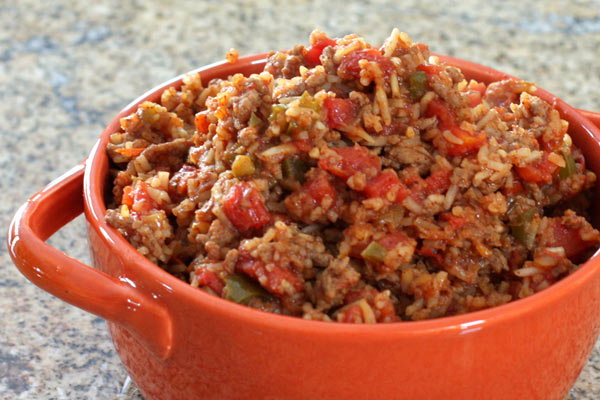 This hearty, delicious Spanish rice is made with stewed tomatoes and ground beef, along with rice, bell pepper, and chili powder. Serve this rice dish with a tossed salad and bread or rolls.
Related: Mexican Cauliflower Rice
Prep Time: 10 minutes
Cook Time: 40 minutes
Total Time: 50 minutes
Ingredients:
Instructions:
Rinse rice and let dry.
Heat oil in heavy skillet over medium heat; add rice and cook, stirring constantly, until lightly browned, about 8 to 12 minutes.
Add onions, garlic, green peppers and ground beef. Stir and break up meat; cook until onion is tender and lightly browned.
Add tomatoes and seasonings.
Cover and simmer about 25 minutes or until rice is tender and most of the liquid has been absorbed.
Let stand, covered, for about 5 minutes before serving.
Serves 4
Site Search