Swedish Meatballs
by
, Updated April 1, 2017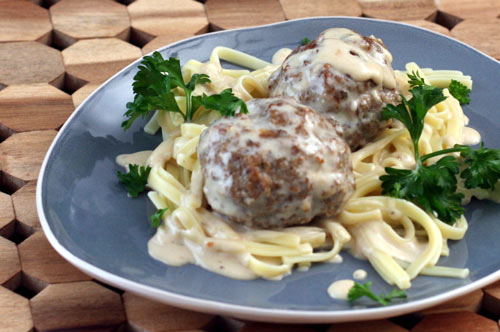 Subtle spices and a delicious sour cream sauce make these Swedish meatballs extra special. Serve these meatballs with hot buttered noodles.
Prep Time: 25 minutes
Cook Time: 30 minutes
Total Time: 55 minutes
Ingredients:
Instructions:
Soak bread crumbs in milk until softened.
Melt 1 tablespoon butter in a saucepan or skillet and saute onion over low heat until softened.
Mix softened bread crumbs, cooked onion, and ground beef. Add eggs, salt, pepper, nutmeg and paprika. Mix thoroughly until well blended. Shape meat into small balls, dusting hands with flour frequently while shaping the balls.
Melt remaining 3 tablespoons butter in large skillet. Add meat balls and fry until browned, turning carefully to brown all sides. Remove from pan, pour off all but about 3 tablespoons of drippings, then stir 3 tablespoons of flour into the remaining drippings. Stir untl well blended.
Add beef broth, and a dash of pepper. Cook, stirring constantly until thickened.
Reduce heat to low and cook 5 minutes.
Stir in sour cream, a little at a time, stirring until thoroughly blended after each addition.
Return meatballs to sauce; cover pan and simmer gently 5 minutes.
Serve with hot buttered noodles.
Makes about 484

Calories per meatball:

68


Fat per meatball:

3.6g



Site Search