Meaty Spaghetti Sauce
by
, Updated April 1, 2017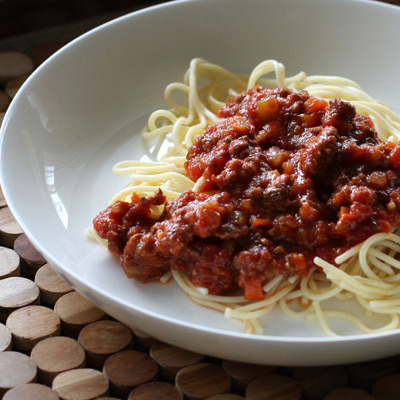 This slow cooker spaghetti sauce is made with both ground beef and Italian sausage, along with tomatoes and vegetables.
Prep Time: 15 minutes
Cook Time: 8 hours
Total Time: 8 hours 15 minutes
Ingredients:
Instructions:
In a heavy skillet over medium-low heat, cook ground beef, sausage, onion, and garlic until meat is no longer pink and onion is tender; drain off excess fat.
Meanwhile in crockpot, combine undrained tomatoes, tomato sauce, mushrooms, green pepper, tapioca, bay leaves, oregano, basil, pepper, and salt. Stir in browned drained meat mixture.
Cover and cook on LOW for 7 to 9 hours or on HIGH setting for about 4 hours. Remove bay leaves. Serve sauce over hot spaghetti.
Serves 8

Calories per serving:

261


Fat per serving:

12.0g



Site Search