Tex-Mex Ground Beef Casserole
by
, Updated April 1, 2017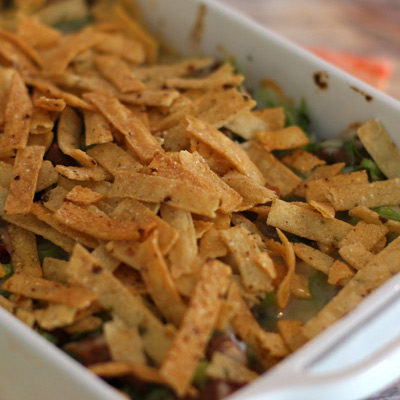 This is an easy Tex-Mex style hamburg casserole made with ground beef, tomato sauce, tortilla chips, and cheese. Feel free to use salsa in place of part or all of the tomato sauce for a spicier version. Serve this ground beef bake with Mexican style rice and sliced fresh tomatoes.
Prep Time: 15 minutes
Cook Time: 20 minutes
Total Time: 35 minutes
Ingredients:
Instructions:
Cook ground beef in skillet until lightly browned, stirring to break up meat. Drain off excess fat. Add onion and tomato
sauce and simmer 5 minutes. Season to taste with seasoned salt.
Place 3 cups tortilla chips in 2-qt casserole. Sprinkle with half of cheese. Pour meat sauce over cheese and then sprinkle with remaining cheese. Garnish with remaining tortilla chips.
Bake at 350 F for 15 to 20 minutes. Top with olives before serving.
Serves 4

Calories per serving:

544


Fat per serving:

14.1g



Site Search