French Toast 101: Tips for Perfect French Toast
by
, August 26, 2017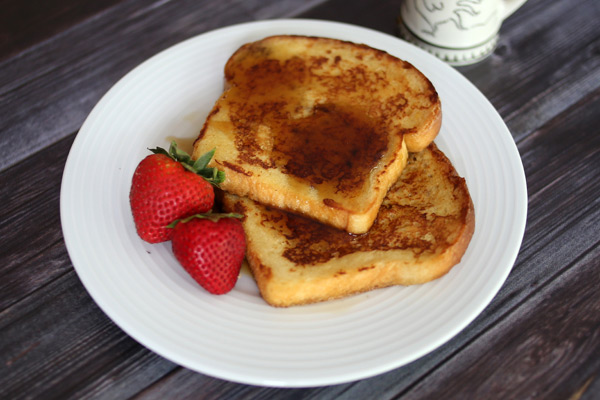 Make perfect French toast every time with these helpful tips. Choose the right bread and the perfect ratio of eggs to milk.
The Egg Batter
The egg-to-milk ratio should be in the neighborhood of 3 to 6 eggs per cup of milk. 4 eggs to 1 cup of milk is a good ratio.
Whisk the eggs thoroughly and add a pinch of salt. A tablespoon of sugar will sweeten the custard mixture just slightly and help in the browning. Or sprinkle the battered French toast lightly with sugar before you put it in the pan.
For a richer French toast, try making the batter with heavy cream or whipping cream.
Whisk a dash of cinnamon and nutmeg or a teaspoon or two of vanilla to the egg batter mixture.
To each 1 cup of milk, add a tablespoon or two of bourbon and 1 teaspoon of vanilla for a grown-up brunch French toast.
Whisk the mixture thoroughly or you'll have patches of egg white on your cooked French toast.
The Bread
Stale crusty bread makes wonderful French toast. If you're using everyday loaf bread, toast it slightly before you dip it in the custard. Or bake the slices in a 200 F oven for about 8 to 10 minutes.
For the ultimate French toast, make it with rich challah or brioche bread, cinnamon swirl bread, or dense pound cake slices.
The ideal thickness is about 3/4-inch to 1-inch. If the bread is too thick, the center might not cook through and if too thin, the bread won't hold up when dipped.
How Long to Soak the Bread
Dip the bread in the custard and let it soak up the custard for about 30 to 60 seconds on each side. The time could vary depending on the thickness and type of bread you're using.
Cooking
For each batch of two slices of battered bread, brush a skillet with a small amount of vegetable oil and melt 1 tablespoon of butter over medium heat. When the butter stops foaming, add the battered bread. Cook for about 3 minutes, or until browned on the bottom. Flip and continue cooking for about 2 minutes longer.
If you're cooking several batches to serve all at once, place the finished French toast on a rack and keep it warm in a 200 F oven for up to 1/2 hour.
See Also