Sour Cream Fudge
by
, Updated March 31, 2017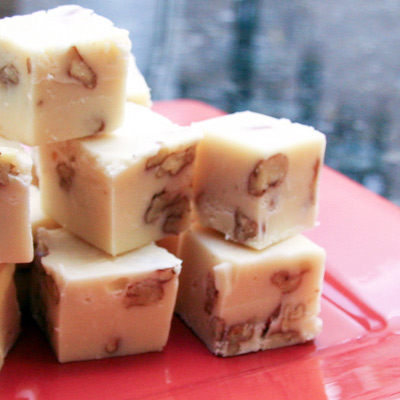 Ingredients:
Instructions:
Butter the sides of a heavy 2-quart saucepan. Add sugar, sour cream, corn syrup, and salt to the saucepan; cook over low heat, stirring constantly, until sugar is dissolved. Turn heat up to medium; cook until mixture boils. Continue cooking, stirring occasionally, to about 238 F on candy thermometer, or soft ball* stage. Remove from heat.
Add butter and vanilla; cool to lukewarm or about 110 F, then beat vigorously until fudge is creamy and no longer glossy.
Stir in cherries and walnuts.
Pour fudge mixture into a buttered 8-inch square pan.
Let harden then cut into squares.
Makes about 3 dozen pieces.
*To Test for Soft Ball Stage
A small amount of candy syrup dropped into chilled water forms a ball, but flattens a bit when picked up with fingers (234 F to 240 F).
Site Search