Peanut Butter Cookies
by
, Updated March 31, 2017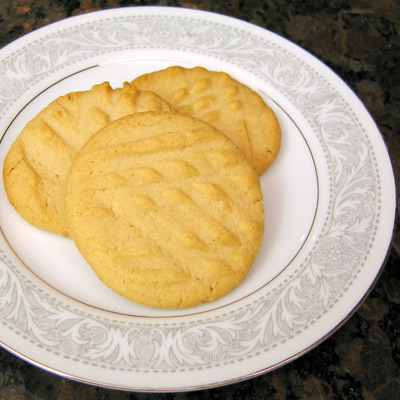 What could be more welcome than these delicious peanut butter cookies?
Ingredients:
Instructions:
Heat the oven to 375 F.
Combine the flour, salt, and baking powder in a bowl; stir and set aside.
Cream shortening with peanut butter and sugars; beat in vanilla and egg.
Add the dry ingredients, blending well.
Shape mixture into 3/4-inch balls; place on greased or parchment paper-lined baking sheets.
Flatten each cookie with the tines of a fork; dip fork in flour frequently to keep it from sticking to the peanut butter cookie dough.
Bake the peanut butter cookies for about 10 to 12 minutes.
Makes 2 to 3 dozen peanut butter cookies.
Site Search