Macaroni and Cheese Recipe
by
, Updated March 30, 2017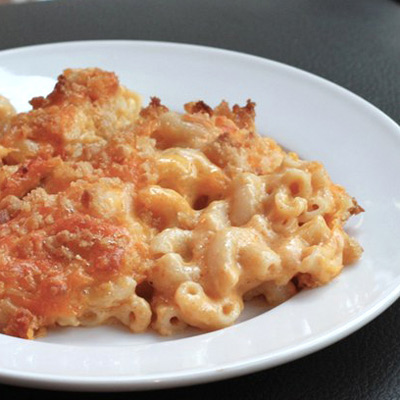 This easy baked macaroni and cheese is made with an egg, a little mustard, and Cheddar cheese. Add a bread crumb topping if you'd like. This is a tasty macaroni and cheese to serve with hot dogs or as a side dish to a holiday meal.
Prep Time: 15 minutes
Cook Time: 35 minutes
Total Time: 50 minutes
Ingredients:
Instructions:
Preheat oven to 350 F.
Lightly grease a 2-quart casserole dish.
Cook the macaroni in boiling water following the package directions until still somewhat firm. Drain the macaroni; return it to the saucepan. Stir in the butter and egg.
Whisk mustard, salt, and nutmeg with the milk. Stir in 2 1/2 cups of the shredded cheese, the grated onion and the macaroni.
Pour the macaroni mixture into the prepared casserole dish. Top with the remaining cheese then sprinkle with the paprika.
Bake the macaroni and cheese casserole in the 350 F oven for 35 to 45 minutes or until topping is nicely browned.
Serves 4

Calories per serving:

631


Fat per serving:

34.4g



Site Search