Bacon and Egg Casserole
by
, Updated March 30, 2017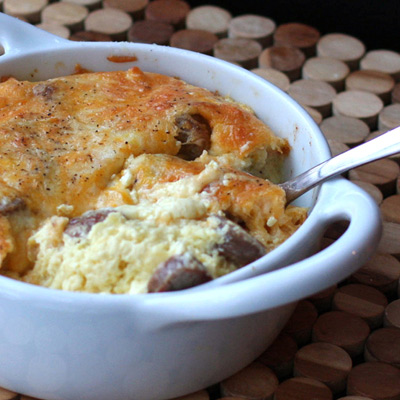 This is a basic egg breakfast casserole with crumbled bacon sprinkled over it before baking. It's an easy casserole to prepare, and can be prepared the night before and refrigerated overnight. Feel free to add sausage instead of bacon if you'd like. If you do make it the night before, take it out of the refrigerator about 20 minutes before baking time.
Prep Time: 15 minutes
Cook Time: 45 minutes
Total Time: 60 minutes
Ingredients:
Instructions:
Heat the oven to 325 F.
Cook bacon until crisp; drain on paper towels and crumble.
Spray a 2-quart baking dish with nonstick cooking
spray.
Place croutons in the prepared casserole and pour butter over them. Sprinkle
grated cheese over all.
In a bowl, mix milk, eggs and mustard; pour over the cheese.
Sprinkle bacon over all.
Bake in the preheated oven for 45 minutes or until set.
Allow breakfast casserole to stand for 15 minutes before serving.
Serves 8

Calories per serving:

409


Fat per serving:

30.5g



Site Search