Macaroni and Cheese Casserole
by
, Updated March 29, 2017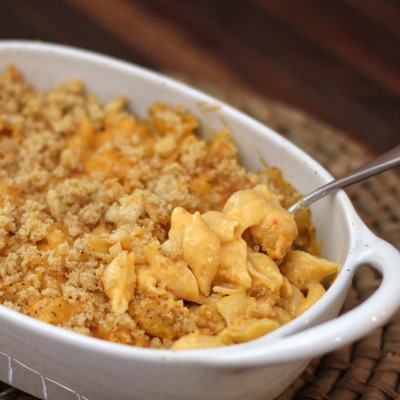 This macaroni and cheese is made with a rich Mornay sauce and cooked macaroni. Use elbow macaroni or medium shells in this casserole.
Prep Time: 15 minutes
Cook Time: 40 minutes
Total Time: 55 minutes
Casserole
Ingredients:
Mornay Sauce
Instructions:
Mornay Sauce
Melt 3 tablespoons of butter in small saucepan over medium heat; add flour. Cook for about 2 minutes, stirring constantly. Add the milk gradually; continue cooking and stirring for about 4 to 6 minutes, or until thickened. Add salt and pepper and nutmeg; stir to blend.
Remove from stove and quickly stir in 2 tablespoons Parmesan cheese and the egg yolk. Set aside.
The Casserole
Cook the macaroni following package directions; drain well and rinse with hot water.
Mix drained macaroni with prepared sauce, 1 1/2 cups of Parmesan cheese and pepper.
Turn into buttered casserole, dot with 2 tablespoons of butter and bake in a preheated 350 F oven for 30 minutes.
Adapted from "The Italian Cookbook" 1955

Serves 6

Calories per serving:

529


Fat per serving:

17.7g



Site Search