Broccoli Souffle
by
, Updated March 29, 2017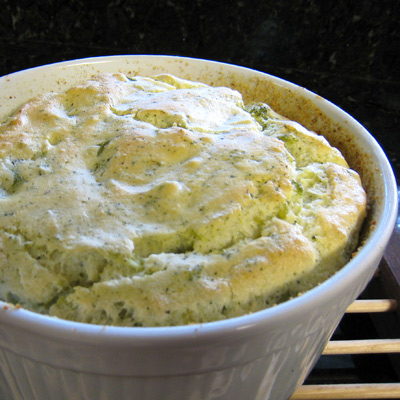 This flavorful broccoli souffle recipe contains mayonnaise, eggs, Parmesan cheese, and milk, along with frozen chopped broccoli.
Prep Time: 12 minutes
Cook Time: 1 hour 20 minutes
Total Time: 1 hour 32 minutes
Ingredients:
Instructions:
Heat the oven to 300 F.
Steam the broccoli following package directions. Chop and drain. Set aside
Combine mayonnaise and flour in a saucepan over low heat; mix well. Gradually add milk; cook, stirring constantly, until thickened. Add salt and cheese and continue cooking, stirring, until cheese melts.
Cool slightly; stir in broccoli and slightly beaten egg yolks. Fold in stiffly beaten egg whites; pour mixture into a 1 1/2-quart casserole.
With tip of spoon, make slight indention around top of souffle to form a top hat. Bake in the preheated oven for 1 hour and 15 minutes. Serve immediately.
Serves 4

Calories per serving:

367


Fat per serving:

7.7g



Site Search