Turkey Noodle Casserole Recipe
by
, Updated March 29, 2017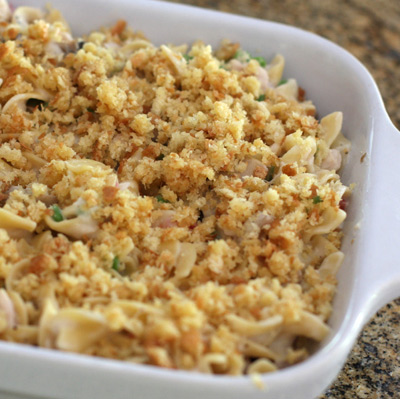 Mediterranean flavors highlight this turkey noodle casserole. Ingredients include artichokes, wine, roasted red peppers, and olives.
Prep Time: 20 minutes
Cook Time: 40 minutes
Total Time: 60 minutes
Ingredients:
Instructions:
Preheat the oven to 350 F.
Whisk broth, milk, salt, and cornstartch together in a large saucepan or Dutch oven until the cornstartch has disolved. Cook over medium heat, stirring constantly, until thickened and bubbly.
Stir in the drained noodles, turkey, artichoke hearts, roasted red peppers, sliced olives, mozzarella cheese, wine, lemon juice and black pepper.
Grease a 3-quart baking dish or spray with nonstick cooking spray. Spoon turkey and noodle mixture into the baking dish.
Sprinkle with the Parmesan cheese.
Bake in the preheated oven until bubbling around the edges, about 35 minutes.
Serves 8

Calories per serving:

371


Fat per serving:

7.0g



Site Search