Betty's Lemon Chicken
by
, Updated March 29, 2017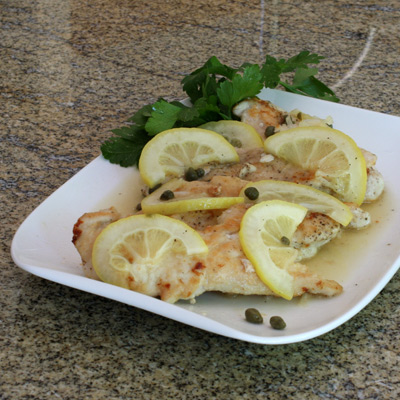 This lemony chicken is easy to fix and bake. Serve this lemon chicken dish with hot cooked rice or buttered noodles, along with asparagus or your favorite side vegetables.
Prep Time: 15 minutes
Cook Time: 45 minutes
Total Time: 60 minutes
Ingredients:
Instructions:
Heat the oven to 375 F.
Combine the flour, paprika, salt, and pepper in a bowl.
Coat the chicken with the seasoned flour.
Heat the olive oil in a large skillet over medium heat; cook the chicken for about 3 to 4 minutes on each side, or until browned.
Arrange the browned chicken in a greased casserole. If the skillet is oven safe, you may finish and bake it in the skillet.
Zest the peel of one lemon, then juice it; set aside.
Sprinkle the chicken breasts with brown sugar and then sprinkle lemon zest over the chicken. Slice the second lemon thinly and arrange over chicken, pour the reserved lemon juice over all. Pour 1 cup chicken broth into the skillet; stir and scrape up any brown bits; pour over the casserole.
Cook in the preheated oven for about 45 to 50 minutes. Serve lemon chicken with rice or buttered noodles.
Serves 4

Calories per serving:

354


Fat per serving:

14.5g



Site Search