Ground Turkey Enchiladas
by
, Updated March 29, 2017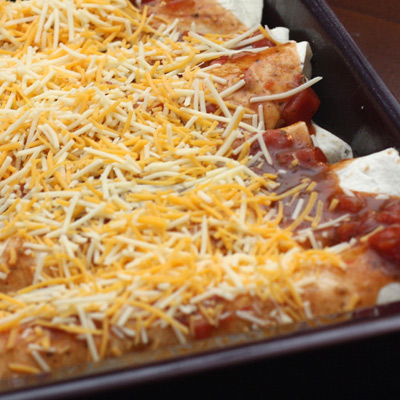 Ground turkey makes these enchiladas lighter than the typical beef enchilada. Feel free to use your favorite salsa, mild, medium, or hot. If you like more heat, add some jalapeno rings to your garnishes.
Prep Time: 20 minutes
Cook Time: 30 minutes
Total Time: 50 minutes
Ingredients:
Instructions:
In a large skillet, cook turkey until browned and no longer pink, breaking it up with a spoon. Add 1 cup of the salsa, the spinach, 1 1/2 teaspoons of the cumin, and the salt.
Cook and stir for about 5 minutes or until most of the liquid has evaporated. Add cream cheese, stirring just until melted.
Spoon about 1/3 cup filling down center of each warm tortilla; roll up and place seam-side down in a lightly greased 13-by-9-inch baking dish.
Combine tomatoes, remaining 1 cup salsa, and remaining 1/2 teaspoon cumin. Spoon over enchiladas. Bake at 350 F for 20 minutes or until hot.
Sprinkle with cheese; return to oven for about 5 minutes, or until cheese is melted. Top as desired.
Serves 6

Calories per serving:

362


Fat per serving:

21.4g



Site Search