Enchilada Bake
by
, Updated March 29, 2017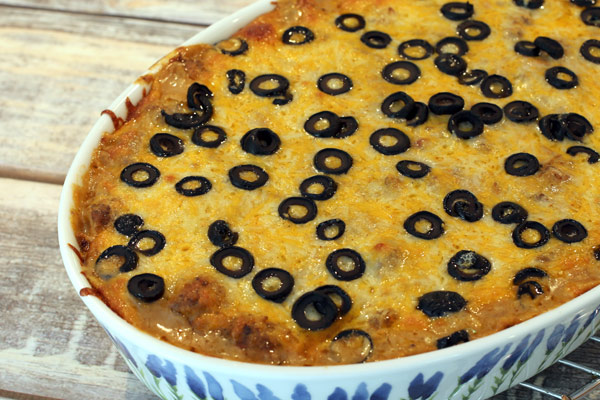 This layered casserole is made with beans, cheese, and tortillas, along with yogurt and a variety of vegetables. It's a vegetarian dish with loads of flavor. If you prefer a casserole with meat, add 1 pound of browned ground beef or a cup of two or diced cooked chicken.
Prep Time: 25 minutes
Cook Time: 50 minutes
Total Time: 1 hour 15 minutes
Ingredients:
Instructions:
In a large skillet over medium heat, saute onion, garlic, mushrooms, and bell pepper until vegetables are softened. Add beans, tomatoes, spices, and wine or stock. Simmer gently for 30 minutes.
Preheat oven to 350 F.
In a small bowl, mix ricotta cheese and yogurt together.
Grease a 1 1/2-quart baking dish; layer tortillas, sauce, cheese, and cheese-yogurt mixture.
Repeat until all ingredients are used, ending with layer of sauce.
Top with cheese-yogurt mixture and black olives.
Bake 15 to 20 minutes, or until hot and bubbly.
Serves 8

Calories per serving:

319


Fat per serving:

4.3g



Site Search