Creamy Chicken Quiche
by
, Updated March 29, 2017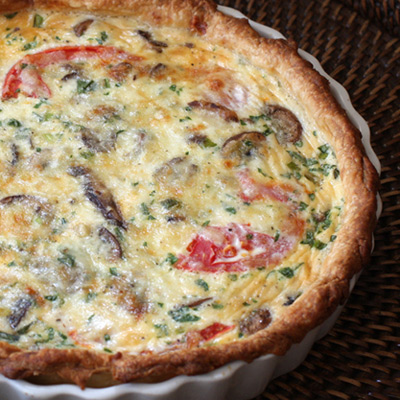 Feel free to use your own pie pastry recipe to make this quiche. The quiche filling combines mushrooms, diced chicken, green onions, eggs, and Swiss cheese. Feel free to add a few thinly sliced tomatoes to the quiche before you top with the cheese. Chopped parsley or basil may be added to the filling as well.
Prep Time: 25 minutes
Cook Time: 55 minutes
Total Time: 1 hour 20 minutes
Pastry
Ingredients:
Filling
Instructions:
In a food processor, combine the pieces of cold butter, the flour, Parmesan cheese, paprika, and ice water. Pulse 5 to 8 times, or until the mixture begins to clump together. Transfer to a floured surface and knead just until the dough holds together. Flatten into a disk and warp in plastic wrap. Refrigerate for 20 minutes.
Heat the oven to 400 F.
Roll the chilled dough out to a 12-inch circle. Fit the crust into a 10-inch pie plate. Crimp the edges and line the pastry with a sheet of foil or parchment. Fill with pie weights or dry beans so the dough will not bubble up in the oven. Bake for 5 minutes. Remove to a rack and remove the pie weights and foil or paper.
Reduce the oven temperature to 350 F.
In a large skillet over medium heat, melt the butter. Saute the mushrooms until golden brown. Add the diced chicken and green onions. Saute for 3 to 5 minutes, or until onion is softened.
Transfer the chicken and mushroom mixture to the cooled pie shell.
In a bowl, whisk eggs, salt and cream together. Pour the egg mixture over the chicken mixture.
Sprinkle cheese over top.
Bake for 45 to 55 minutes at 350 F, or until set.

Serves 8

Calories per serving:

493


Fat per serving:

37.7g



Site Search