Navajo Fry Bread
Updated June 5, 2017 by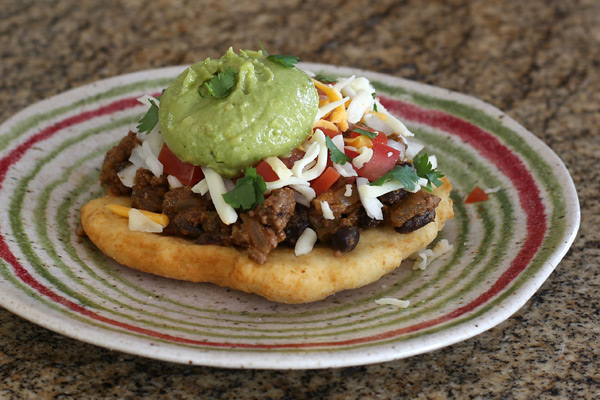 Ingredients:
Instructions:
In a bowl whisk together the flour, the baking powder, and the salt, stir in the water, and knead the mixture on a floured surface until it forms a soft but not sticky dough. Let the dough stand, covered with a kitchen towel, for 15 minutes.
Pull off egg-size pieces of the dough stretch them into 1/4-inch thick rounds. Poke a hole with a finger through the center of each round so that the breads will fry evenly.
In a large heavy skillet heat the shortening over moderately high heat until it is hot but not smoking, in it fry the rounds, 1 at a time, for 2 minutes on each side, or until they are golden, and transfer the breads as they are fried to paper towels to drain.
Adapted from Gourmet Magazine : April 1993 : Pg. 193-194


Serves 8

Calories per serving:

229


Fat per serving:

0.6g


Note: calorie and fat count do not include the shortening - some will be absorbed when frying.
Site Search