Cracked Wheat Bread
Updated June 5, 2017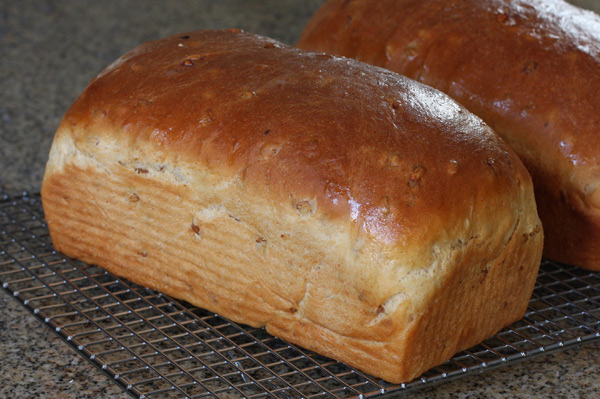 This bread has long been one of my favorite homemade yeast bread recipes. It is one of the first yeast breads I made.
Ingredients:
Instructions:
In a saucepan, cook the cracked wheat in the boiling water about 10 minutes, stirring occasionally to prevent sticking until all the water is absorbed.
Dissolve the yeast in the 1/3 cup lukewarm water in a large mixing bowl and let it stand for about 5 minutes.
Stir the butter, salt, molasses, honey, and milk into the cooked cracked wheat.
Cool the cracked wheat mixture to lukewarm, then add to the yeast mixture. With a large spoon or with one hand, start stirring in the flours, 1 cup at a time.
When the dough is stiff enough to work, turn out on a floured board and knead a good 10 to 12 minutes, working in a little of the remaining flour as necessary. Alternatively, you may use a stand mixer with dough hook attachment at this point.
When the dough is smooth and elastic, shape into a ball and put in a buttered bowl, turning to coat with butter. Cover with plastic wrap, place in a warm, draft-free spot, and let rise until doubled in bulk, about 1 1/2 hours.
Punch down and shape into two loaves.
Put in well-buttered 9-by-5-by-3-inch loaf pans, cover, and let rise again until doubled in bulk, or until the dough reaches the tops of the pans.
Bake in a preheated 375 F oven for 30 to 35 minutes, or until the loaves sound hollow when tapped on top and bottom. Cool on racks.
Adapted from Beard on Bread by James Beard.

Makes 2 loaves, about 24 slices

Site Search