Barbecued Baked Beans
Updated June 5, 2017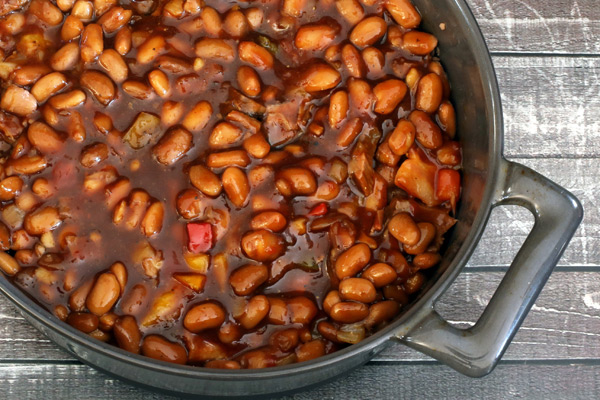 These gussied-up barbecued beans are perfect for a cookout or tailgating event.
Prep Time: 15 minutes
Cook Time: 38 minutes
Total Time: 53 minutes
Ingredients:
Instructions:
In small skillet over medium heat, fry the bacon; drain and set aside.
Saute the onions and green pepper in the drippings until wilted.
In large bowl, combine ketchup, brown sugar, Worcestershire, barbecue sauce, and dry mustard.
Skim liquid from top of beans while still in can and remove fatty pieces of pork.
Combine the beans, crumbled bacon, onion, and peppers with other ingredients.
Put into a greased, 2 quart casserole.
Bake at 350 F for 30 to 45 minutes.
Serves 6

Calories per serving:

348

More Recipes

Baked Beans With Ground Beef
Easy Baked Beans With Bacon
Quick and Tasty Bean Bake

Bean Recipes Index
Site Search