Cranberry Meatballs
Updated June 4, 2017 by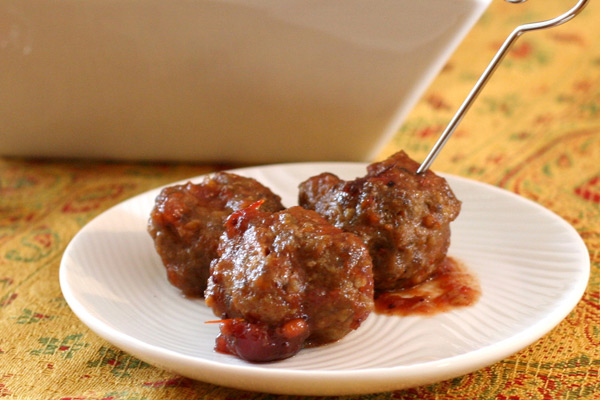 Cranberry sauce makes this tangy sauce for appetizer meatballs. These are great appetizer meatballs to serve around the winter holidays.
Prep Time: 20 minutes
Cook Time: 30 minutes
Total Time: 50 minutes
Ingredients:
Sauce


Instructions:
Meatballs
Combine bread crumbs, ground beef, 1/2 cup of cranberry sauce, egg, salt, pepper, basil and thyme. Shape into 1 inch meatballs.
Arrange the meatballs on a rack in a large rimmed baking pan.
Bake in a preheated 350 F oven for 25 minutes.
Sauce
In a medium saucepan, combine 1/2 cup cranberry sauce and beef broth. Heat over medium heat until gently boiling.
In a bowl, combine orange juice and flour, mixing until smooth. Add to cranberry mixture, stirring until sauce is thickened.
Reduce heat, add meatballs to sauce, and simmer for 15 to 20 minutes.
Serve in chafing dish or crockpot over low heat.

Makes about 3 dozen..

Site Search