Pork and Green Onion Wraps
Updated June 4, 2017 by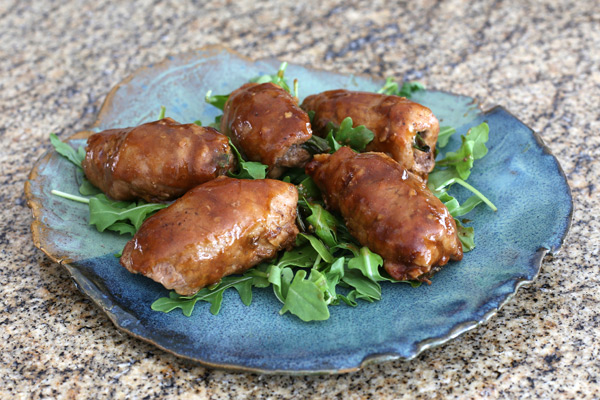 Lean pork tenderloin makes this a relatively light appetizer. Experiment with sugar-free sweeteners to make this a great choice for your low-carb guests.
Prep Time: 20 minutes
Cook Time: 15 minutes
Total Time: 35 minutes
Ingredients:
Instructions:
Preheat oven to 400 F.
Trim any excess fat from pork tenderloin, then cut into 20 round slices.
Flatten meat slices with the heel of your hand, side of a knife, or mallet. Sprinkle lightly with kosher salt and freshly ground black pepper.
Trim the green onions, then cut each into 3 or 4 pieces.
Place green onion on a meat slice and roll up. In a shallow baking dish, stir together garlic, soy sauce, honey, oil, hoisin sauce and ginger root. Place pork rolls in soy mixture seam side down and turn to coat. If preparing a few hours ahead, cover and refrigerate.
Bake, uncovered, for about 15 minutes or until meat is no longer pink in center. During baking, baste the pork tenderloin rolls frequently with sauce.
Remove the pork to a plate and keep warm.
Pour the juices into a small saucepan. Combine the cornstarch with 1 tablespoon of water and mix until smooth. Stir into the juices.
Place the pan over medium heat and bring to a simmer. Cook until thickened.
Brush the sauce over the pork rolls.
If desired, sprinkle with sesame seeds.
Note: The minimum safe temperature for pork is 145 F.
Serve hot or warm garnished with sesame seeds.
Site Search