Appetizer Meatballs
Updated June 4, 2017 by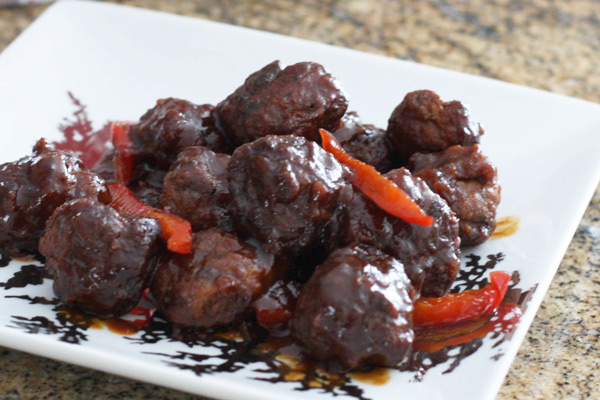 This recipe for meatballs has become one of our holiday favorites. Make these spiced meatballs for a party or potluck event.
Prep Time: 20 minutes
Cook Time: 50 minutes
Total Time: 1 hour 10 minutes
Ingredients:
Instructions:
In a large bowl, mix the breadcrumbs with the milk; let stand a few minutes until milk is absorbed. Add the beef, pork, 1 teaspoon salt, allspice, ginger, onion, and egg and mix until blended.
Shape mixture into balls about 1 inch in diameter.
Bring 2 quarts of water to a boil in a large saucepan and add 1 teaspoon of salt.
Drop the meatballs into the water and simmer, covered, for 20 minutes.
Heat the oven to 350 F.
In a small saucepan, combine the brown sugar, broth, and melted butter; stir and heat until the brown sugar is dissolved to form a glaze.
Drain the meatballs and place in a single layer in a 9-by-13-by-2-inch baking pan. Spoon the glaze over the meatballs and bake, uncovered, for 30 minutes, turning the meatballs by shaking the pan after each 10 minutes of baking.
Recipe adapted from the recipe Mormors Meatballs, "Christmas Memories with Recipes" (Beatrice Ojakangas)
Makes about 36 meatballs.
Site Search